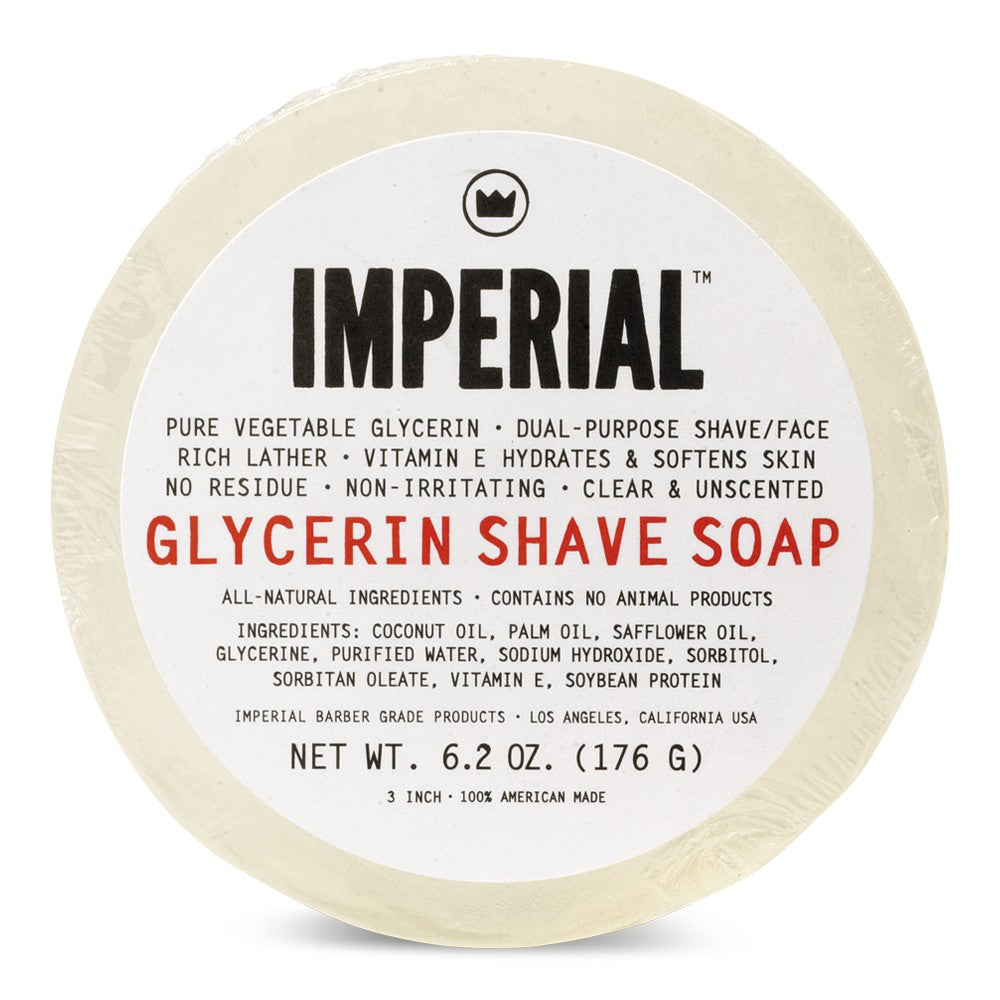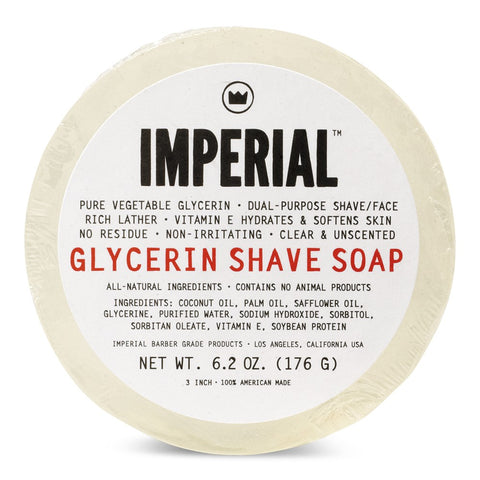 Glycerin Shave Soap (Puck)
Product Type:
Shave & Skin Care
10 customers are viewing this product
You traditional wet shavers demanded it, and we listened. Our top selling GLYCERIN SHAVE/FACE SOAP is now available in a 3" puck ready for your mug.
The puck is just like the same great 100% natural, dual-purpose, high-performance shaving and facial cleansing bar.
FOR TRADITIONAL WET SHAVING:
With a wet shave brush or hands, work into a rich lather with warm water and apply to damp beard. Proceed to shave with preferred razor for a close, smooth, clean and moisturizing shave. The rich lathering quality of our glycerin along with the infused vitamin E, safflower, palm and coconut oils will protect your skin and provide optimal blade glide – without any residue left behind.
AS A DAILY FACIAL SOAP:
Use in shower to rid your face of dirt and toxins. Benefit from the moisturizing and smoothing properties of glycerin and vitamin E. Simply work into a lather with warm water and massage onto wet face, rinse clean.
Pair with the FIELD SHAVE SOAP CANISTER and VEGAN TRAVEL SHAVE BRUSH for the traditional wet shaving experience.
Available as part of THE SIMPLE SHAVE SET, THE SMOOTH SHAVE SET, and the DELUXE FIELD SHAVE KIT.
Best used in a shave mug or bowl (such as our FIELD SHAVE SOAP CANISTER) with a shave brush.

In a shave mug or bowl, add hot water and build up lather with a shave brush. Apply shave soap lather to face and brush in a circular motion, then shave. Rinse off lather once done shaving.

For added razor blade glide, add a few drops of our PRE-SHAVE OIL & BEARD CONDITIONER onto soap before lathering.


COCONUT OIL, PALM OIL, SAFFLOWER OIL, GLYCERINE, PURIFIED WATER, SODIUM HYDROXIDE, SORBITOL, SORBITAN OLEATE, VITAMIN E, SOY BEAN PROTEIN